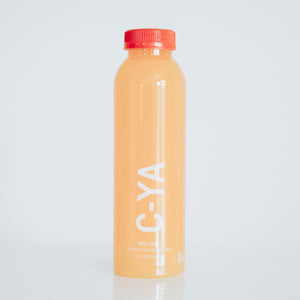 c ya. [orange, grapefruit, apple, ginger]
[orange, grapefruit, apple, ginger]
If you are battling a nasty cold, allergies, or just feeling run down, your body needs "c ya." 
The blend of orange, apple, and grapefruit deliver mega amounts of vitamin C. Vitamin C is critical for the body and battles nasty free radicals, tissue damage, and premature aging. 
Another bonus, grapefruit aids in weight loss by reducing insulin levels. Don't forget the ginger! Ginger rounds out this juice as a natural anti-histamine and anti-inflammatory.
Benefits.
reduces cholesterol.

boosts immune system.

reduces inflammation.

supports weight loss.