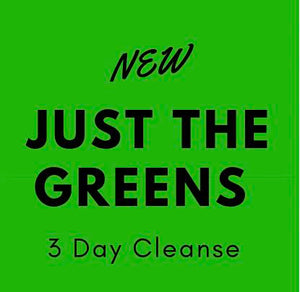 3 day 'JUST THE GREENS' cleanse with tote
Regular price $162.00 Sale
Once you've finished your starter and advanced cleanses this is the final step in getting you to your goal. This is a serious cleanse for serious juicers. We are providing you with 18 of our most powerful green juices to lean out your body and help you achieve those goals! 
Each day you will drink - 
morning dirt. [apple, carrot, celery, romaine lettuce, green leaf lettuce, parsley, cilantro, Hawaiian spirulina]
green go.  [green apple, lime, cucumber, celery, spinach, kale, romaine lettuce, cilantro, mint]
refresh. [green apple, cucumber, lemon]
sing. [kale, spinach, green apple, lemon]
ting. [spinach, celery, green apple, lime]
original green. [cucumber, spinach, green apple, parsley]
** Very Important - If you are allergic to any of our blends please let us know in the "Notes" section at checkout so we can send a substitution!