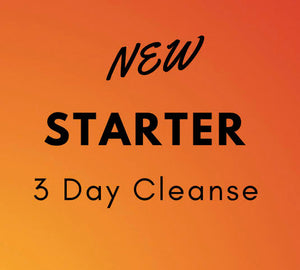 3 day STARTER Cleanse with tote
Regular price $156.00 Sale
Oh My Goodness!! You have a goal in mind and you're ready to start working towards it! Welcome to the "starter" cleanse. We're going to get you started on your journey by starting with the organic basics.
Each day you will drink - 
aloha. [pineapple, pear, chia seeds, h2o]
ting. [green apple, spinach, celery, lime]
refresh. [green apple, cucumber, lemon]
hello. [kale, pineapple, lemon, ginger]
sweet beet. [apple, carrot, beet, lemon, ginger]
chocolate almond milk. [cacao, almonds, dates, h2o]
** Very Important - If you are allergic to any of our blends please let us know in the "Notes" section at checkout so we can send a substitution!