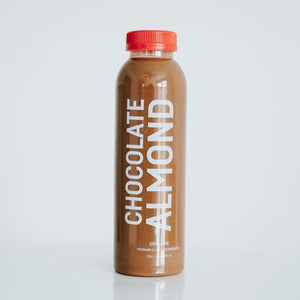 chocolate almond! [almonds, cacao, dates, water]
[almonds, cacao, dates, water]
This. blend. is. so. good. (and good for you!) 
Our latest creation "chocolate almond!" is a chocolatey blend of raw cacao, dates, almonds & filtered water. Raw cacao contains flavonoids, an antioxidant that lowers the risk of disease. As a matter of fact, cacao has the highest antioxidant polyphenol content out of all known foods! 
Our raw, unpasteurized almond milk is low in calories but rich in taste. Almond milk helps your body reduce cholesterol levels, maintain healthy blood sugar levels, build strong bones, and support healthy skin and shiny hair. How? Vitamins E, D, A, Calcium, and Iron.
Who knew dates were so great? There are over 15 minerals and 23 types of amino acids! The easily digested fruit helps move waste through the colon & helps prevents the oxidation of LDL (bad) cholesterol. Plus, copper, magnesium, manganese and B6 boosts your body's ability to metabolize carbohydrates, fats and proteins! 
 Benefits.
eyesight support
disease prevention
anti-depressant 
cardiovascular support
maintains blood sugar levels